Online Timesheet Manager - News
Number of Projects in Client List
December 2016
The every count of active projects is shown in the client list now.

Enable Hint for Carry Over Working Time Balance
October 2016
At the beginning of a new month, an info for the carry over of the working time balance of the previous month is displayed in the timesheet. The display of this message can be disabled with the "Do not show again" - check box. So far there was no way to enable the notice for carry over the overtime again. Now this is possible with the "Show hint for carry over from last month for me" - setting. This setting is applicable only for the particular user of the timesheet system. For users without a time model no info dialog is shown.
Changes Public Holiday Calendar
July 2016
The administration of the public holiday calendar has been moved from the settings to the "Administation" menu. Now furthermore the "Public holidays" page will only be displayed for users who may create new public holidays. In the timesheet the holidays are still marked accordingly for all users and considered as necessary for the respective time model.
New Leave Statistics
May 2016
Now an overview of leave entitlement, taken leave and leave balances is displayed in the users statistics.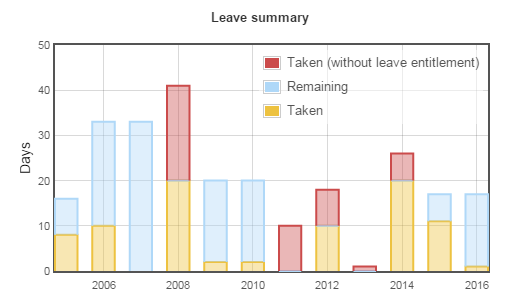 Several Odds and Ends
May 2016
We have implemented a number of minor changes and additions. For example, the target hours and the hours balance of the Excel export are now also displayed for the entire year in the annual summary. The tab for the user permissions now has its own "Save" button, etc.
Navigation Company Account
February 2016
Now the settings for the Goodtime account are easier to find - they have their own menu item: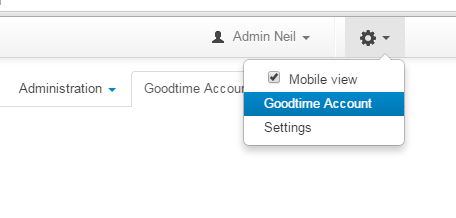 In the Goodtime Account Settings you can, for example, change the master data such as the company address. The current costs and the invoices issued for the timesheet management system are also displayed. These settings can be viewed and changed by the administrator and users with the role of an application manager.
Input Type of Leave
January 2016
The leave entitlement for a user can be created in days or in hours. The "input type" of the taken leave has to match the leave entitlement, so that the taken leave can be deducted from the leave entitlement correctly.
Now a warning message is displayed if the selection of the input type of a leave entry does not match the type of the leave entitlement of the user.

Tip: If you manage the leave entitlement for all users similarly (for example, only by the day), than you can delete (or set its status to "closed") the other leave time category (in this example "by the hour"). So the selection of a wrong leave time category is impossible from the first.