Online Timekeeping Software - News
App for Apple iOS
September 2023
After Android, there is now also an app for iPhones and iPads. The range of functions corresponds to that of the Android app and includes the most important actions relating to the current time entries. The app is available in the Apple App Store under "Goodtime Mobile". You can continue to use Goodtime via the browser on iPhones as well.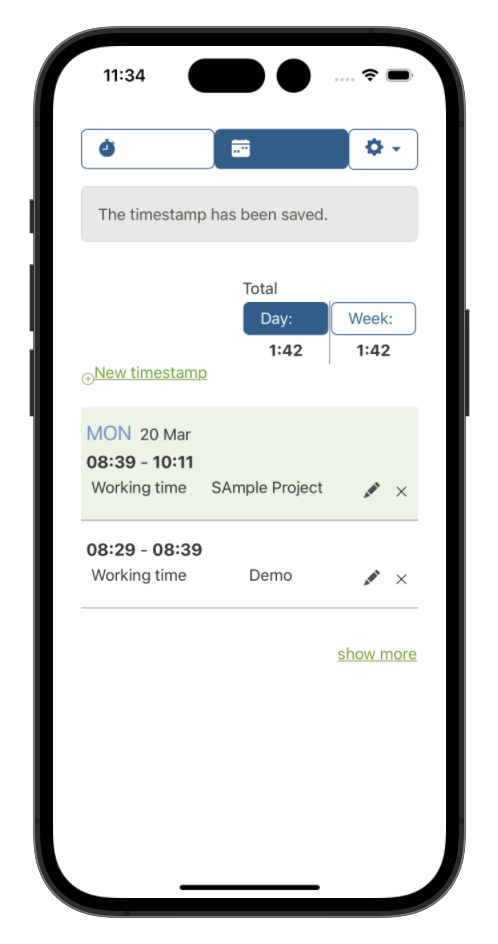 Company vacation
August 2023
We're taking a break from July 31st to August 4th. The operation is not restricted during this period of time and the support will continue to be there for you too.
Android App
July 2023
Goodtime is now also available as an Android app for smartphones and tablets. The beta version of the mobile app has the most important functions, such as creating and changing time entries.
If you prefer to stay with the desktop version on your smartphone too, you can continue to do so via the browser.
Better handling with the keyboard
April 2023
The project selection for many projects has been optimized for keyboard operation. Now you don't have to switch between mouse and keyboard, or you can select a project with just the keyboard alone.
The project selection for many projects is recommended from about one hundred projects. The function can be switched on in the settings in the 'View' tab.
Authorization for timesheets
March 2023
Viewing and changing someone else's timesheets could previously only be allowed for all foreign timesheets in the online timekeeping at once. Namely in the role of the timesheet manager. This authorization can now also be assigned to individual users.

REST interface
January 2023
There is now a REST interface for employee time tracking. This API is intended for software developers and offers the possibility to create arbitrary time entries with time type and project. A web service has been available for the time clock for quite some time. Here you will find the technical description of both APIs.
Best wishes for the year 2023
January 2023
We wish all our customers a happy and successful year 2023!